Add Halotherapy To Your Clearlight Infrared Sauna
Halotherapy, is derived from the Greek, Halo, meaning "salt". Also known as Salt Therapy, Halotherapy is a holistic treatment that reproduces the natural micro climate of a salt cave by dispersing a high concentration of microsalt particles into the air.
A BRIEF HISTORY OF HALOTHERAPY
In the 1840s, a Polish doctor named Feliks Boczkowski noticed something interesting while treating workers in the Wieleczka Salt Mines. Unlike other miners who routinely experienced lung problems from breathing in the pollutants in the mines, he found that patients rarely had respiratory issues. Boczkowski attributed this to the high salt content in the cave's microclimate and he published a treatise detailing his theories in 1843. Several years later one of his pupils opened the first salt inhalation clinic in Poland. Today, Boczkowski is considered the father of modern Halotherapy.
This wasn't the first time people had drawn the connection between salt content in the air and improved respiratory health. Catholic monks in times in Europe regularly brought people with respiratory issues into salt caves and then crushed the salt with their feet to release it into the air. Salt therapy was also used in the days of ancient Greece and Rome.
HALOTHERAPY GENERATOR FOR YOUR HOME SAUNA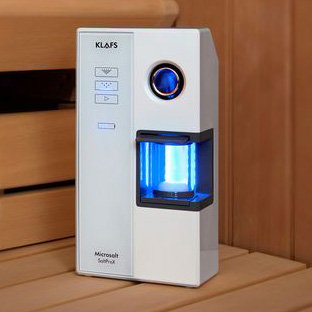 Since it's not realistic for everyone to have regular access to salt caves, halotherapy generators are a great option for incorporating salt therapy into your wellness routine. One of the best solutions on the market is the Microsalt Halotherapy Generator.
When using the Microsalt Halotherapy Generator, you can enjoy the benefits of salt therapy.  The Halogenerator grinds pharmaceutical grade salt into micronized particles, which are then dispersed into your Clearlight® infrared sauna.
The Microsalt SaltProX generates a high-quality, ultra fine salt aerosol that spreads through the entire sauna cabin. This allows the healing powers of the salt to reach the deepest parts of your lungs, providing your body with the maximum potential benefits.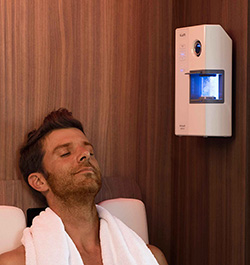 The powerful healing properties of halotherapy are earning the attention of some of the world's most advanced medical institutions and publications. Clinical studies have shown that when people inhale this salty air, it can help stimulate their respiratory system, reduce inflammation, fight infection, clear blockages and reduce discomfort.
People around the world using halotherapy claim to be free of issues and illnesses like asthma, stress, depression, eczema, and sinus infections, all thanks to halotherapy.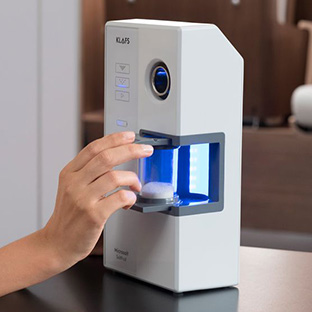 Find out how you can have a salt sauna at home by adding Halotherapy to your Clearlight® infrared sauna.  Give us a call today at 1-800-484-5009 to speak to an infrared sauna specialist.